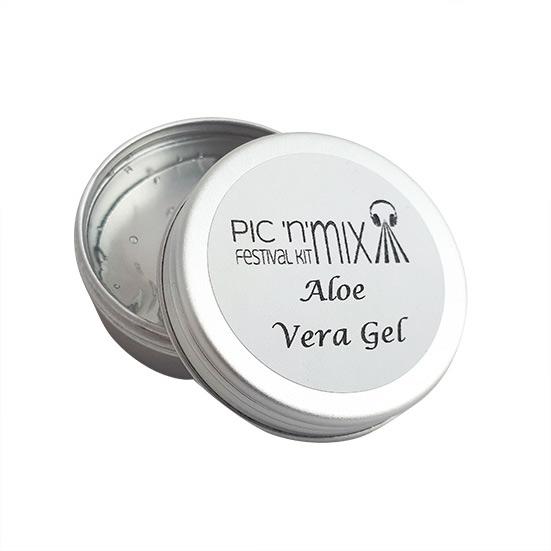 Aloe Vera Gel Glitter Fix
1034
Aloe Vera Gel Glitter Fix - 10ml 
This Organic Aloe Vera Gel is perfect for use with body glitter. It makes it so easy to apply glitter and helps make it last long into the festival weekend, as well as being super easy to remove.
Our Aloe Vera Gel is much kinder to the skin than many other high street brands as it contains a high amount of Aloe Vera and is paraben-free (parabens are the preservatives contained in many personal care products). It's effective for all skin types and is even great for sunburnt skin at festivals.
To apply your glitter, simply put a small amount of Aloe Vera Gel on your face, body, or hair and then apply the glitter with a brush or your fingers. Alternatively, you can premix the gel and glitter.
It comes in a recyclable aluminium pot (we always aim to be eco-friendly) and 10ml should be more than enough to last a whole festival weekend for you and your festival friends.
Easy to use and great for creating stunning detailed designs so stand out from the crowd and get sparkled!
To remove the glitter and glue, simply rub gently with mild soapy water.
Perfect for use with our biodegradable glitter range so get sparkling!
Mary
We used the glitter fix and assorted glitter for our party...What a hit!!!!!!!! Kids and grown ups alike loved this ,so easy to apply and easily removed later...def recommend .Also used hair chalk and light wands ,great fun and such good value for money.Really went towards making our night a success.Will def be looking to order more stuff and try out new products.
Marie
I Bought this with the glitter and was surprised at how comfortable it was on my skin...it didn't feel sticky or tight on my skin at all, but kept the glitter on all night long. Cleaned off easy too, a must have for any glitter wannabe.
Lou
Used this with the glitter kit and loved it cute little packaging lovely gel feels natural and not harsh on the skin in the slightest.