By Jodie Boyd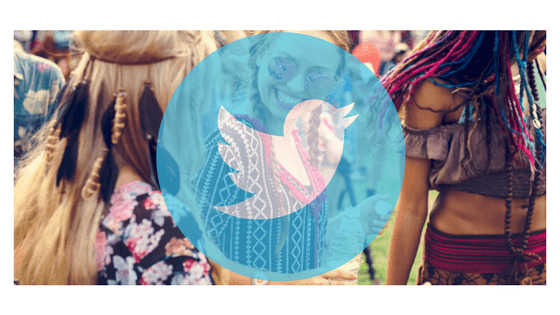 According to research, UK music fans are increasingly turning to Twitter to keep up-to-date with music news and info so it's a great resource for festival-goers and music fans alike. But, with literally thousands of festival and music-related Twitter accounts in existence, how do you know which ones are the best to follow? The good news is that we've done our homework to come up with a list of 10 great Twitter accounts all festival-goers should follow to help stay ahead of all things festival-related.
1. Fest Ticket @Festicket
The ultimate festival guide, Fest Ticket regularly tweets about festivals all over the world, as well as competitions to win festival tickets and promotional deals. You can also book ticket and accommodation packages here.
2. BBC Music @bbcmusic
Get info on the latest tracks, music programmes, and entertainment news from across the BBC.
3. Ticket Master UK @TicketmasterUK
If you want to be one of the first to know about tickets, tours, and events in the UK (not just festival tickets, but also music, comedy, theatre, and sport), this is one to follow as you also get access to pre-sale tickets.
4. Skiddle @Skiddle
You can book tickets for gigs, clubs, and festivals at Skiddle. You'll also get access to watch and read interviews with artists as well as Skiddle's own DJ mixes and podcasts.
5. Vicky Flip Flop @VickyFlipFlop
Regarded as one of the top festival bloggers in the UK, Vicky has been to a lot of festivals and has some great advice for festival-goers, including where to go and how to make the most of the festival scene.
6. Festival Paradise @festiparadise
Tweets regular information and inspiration on the best boutique, family-friendly, and independent festivals, as well as music entertainment news.
7. Eventim @eventim_uk
This ticketing company provides tickets for festivals, concerts, comedy, sports events, theatre, and musicals. Follow for promotional offers such ticket discounts and no booking fees.
8. Get Me In @GETMEIN
Looking for a last minute festival ticket or need to sell one you no longer need? Get Me In is an online ticket marketplace that can help you save money if you're looking for a cheap ticket.
9. Food Festival Finder @FoodFestFinder
If you're looking for the perfect foodie festival, this comprehensive guide to all food and drink events in the UK is the one to follow. Offering lots of inspiration, reviews, interviews, competitions and more.
10. Hot UK Festivals @HotUKFestivals
Offering exclusive deals and promoting some of the best UK festivals, Hot UK Festivals also partners with JiveMap, which allows customers to see at a glance what's happening in the area they are in.
Don't forget to follow us @pnmfestivalkit as we deliver top advice on what essentials you need to take to a festival as well as festival news, deals, competitions and anything else festival-related. We just love festivals!
Are there any others we didn't mention that would be in your top 10 list?
Pic 'n' Mix Festival Kit provides quality bespoke and pre-packed festival kits to festival-goers, offering a simple and convenient way to shop for all your quality festival essentials.
Don't receive our newsletter and want to receive regular updates on all things festival and eco-related? SIGN UP