By Jodie Boyd
If you're wondering whether music festivals are for you, we've put together a list of our top 5 reasons to go. If these don't convince you, nothing will, so get that festival ticket booked - you won't regret it!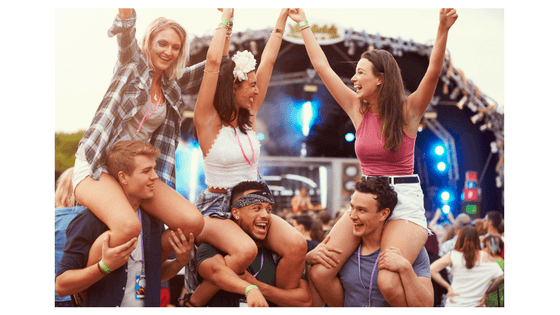 Reason 1 - Take Time Off
If you've been working like a dog recently or you've been studying and just your finished exams, music festivals are the perfect excuse to get away from it all and forget all the pressures of work or study back home and completely switch off. It will make you feel amazing, honestly. It's so good for the soul to take time to regenerate and re-energize and ultimately have a total blast before you go back to the daily grind.
Reason 2 - Experience The Outdoors
Whether you're camping or glamping, music festivals are a great opportunity to get down and dirty with Mother Nature. Spending time outdoors can improve your health and wellbeing and a bit of sunshine (hopefully) always does us good. Embrace the mud (although there are ways to stay fairly clean), and if you're going with kids, let them run around and be free spirits for a weekend.
Reason 3 - Spend Quality Time With Friends & Family
Drinking, dancing, and sharing a tent with your besties over a long weekend - isn't that what life is all about, spending quality time with those you want to hang out with the most? Music festivals tend to bring out the fun side of people as they connect people through both music and the entire festival experience, creating stronger bonds that help capture lifelong memories.
Reason 4 - Try New Things
Ever tried your hand at stand-up comedy, making the perfect cocktail, hip hop karaoke, or yoga? Or perhaps it's your first time pitching a tent. Music festivals offer an incredible array of new things to try. They are also a great way to experiment with different looks - fancy dress costumes, glitter, wacky hairstyles, and metallic tattoos. Leave the old you behind for just one weekend and go in with a completely open mind – you may be surprised what you'll learn about yourself!
Reason 5 - The Music (Of Course)
Last, but definitely not least, for most festivalgoers, it's all about the music. Nothing quite beats the buzz when you're standing in a crowd of like-minded people, everyone singing along together – it's a crazy adrenaline rush brought on by the sheer power of music.
There are literally hundreds of music festivals in the UK alone, all of different sizes and something for everybody, no matter your musical tastes. Apart from seeing some of your favourite artists and bands live on stage, music festivals are a fantastic way to hear new music and find out about new artists. And it's not all about the headliners - go and see some smaller acts as you may be surprised by just how good they are and they may be the next big thing! I always leave a music festival with a mental shopping list of different tracks and albums to buy once I get home.
So, once you've taken the plunge and booked that festival ticket, be festival-ready so you can enjoy what should be an amazing music festival experience!
Pic 'n' Mix Festival Kit provides quality bespoke and pre-packed festival kits to festival-goers, offering a simple and convenient way to shop for all your quality festival essentials.
Can you think of any other great reasons?
Don't receive our newsletter and want to receive regular updates on all things festival and eco-related? SIGN UP