By Jodie Boyd
Us Brits are often regarded as an eccentric nation, so if you like the idea of going to a very unusual festival or are just intrigued to know what sort of unconventional events exist in the UK, check out this list of bizarre festivals. Weird maybe, but possibly wonderful too so which one would you go to (if you haven't already been)?
1. International Festival of Worm Charming
| | |
| --- | --- |
| Location: | Blackawton, Devon |
| Date: | 27th May 2018 |
Held over the Spring Bank Holiday, this festival is attended by over 600 people and invites competitors to collect as many worms they can 'charm' out of the ground as possible in 15 minutes. Most of the money raised is donated to charity and all worms are returned to the ground – phew! Website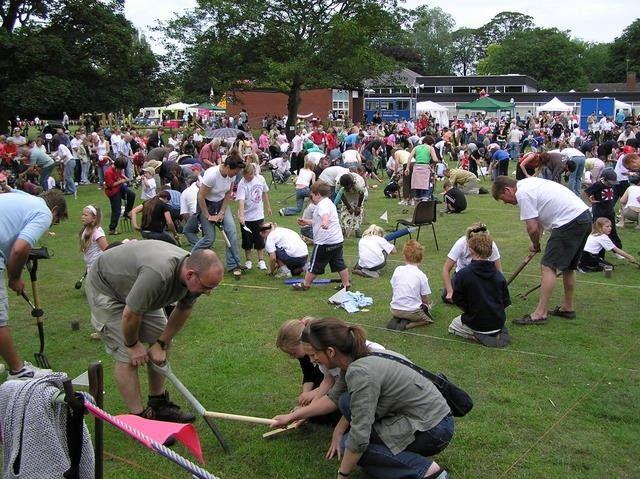 Competitors charming worms out of the ground (Photo credit: southhams.com)

2. Cheese-Rolling at Cooper's Hill
| | |
| --- | --- |
| Location: | Cooper's Hill, Gloucestershire |
| Date: | 28th May 2018 |
If you fancy rolling down a very steep hill for a chance to win a 70mph runaway 9lb Gloucester cheese wheel in front of over 15,000 people, this festival may be right up your street. Just 'brie aware' (sorry!), as it's considered to be a dangerous activity, often resulting in broken bones and sprains.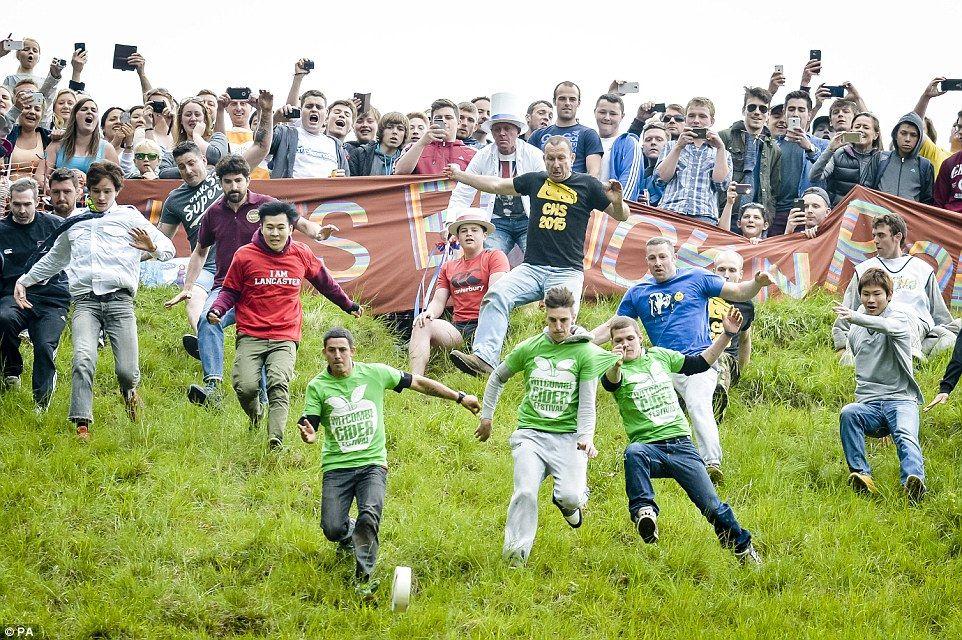 Runaway cheese (Photo credit: dailymail.co.uk)

3. World Toe Wrestling Championship
| | |
| --- | --- |
| Location: | Ashbourne, Derbyshire |
| Date: | 22nd June 2018 |
Held in a pub, this eccentric sport involves competitors wrestling with…yep, you guessed it – their toes! Not for the faint-hearted, this sport has resulted in broken toes and sprained ankles. Apparently, the only reason it's been turned down as an Olympic sport is because the Olympic Committee can't decide whether it is a winter or summer sport. Toe-tally bizarre, right?! Website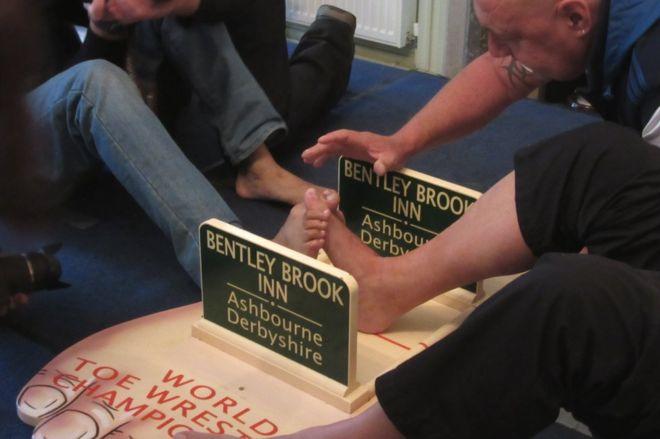 Toe wrestling (Photo credit: bbc.co.uk - courtesy of Bentley Brook Inn)

4. Bog Snorkelling World Championships
| | |
| --- | --- |
| Location: | Llanwrtyd Wells, Wales |
| Date: | 28th August 2018 |
Attracting competitors from all over the world, and listed as one of the top 50 'must-do-' things globally by Lonely Planet, this festival involves snorkellers racing through a 60-metre flooded trench in the Waen Rhydd Peat Bog. The event also involves fancy dress, bog triathlons and extreme ironing – all through the bog (yes, you heard right)! Website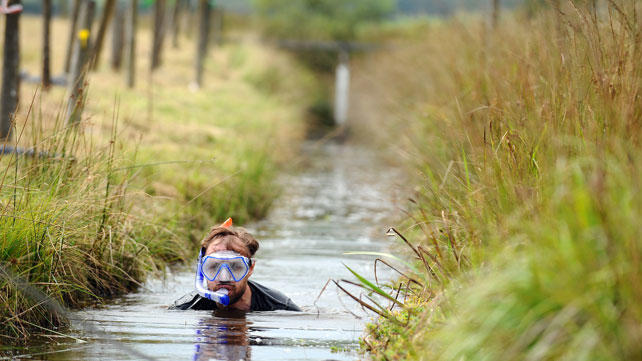 Bog snorkelling (Photo credit: visitwales.com)
5. Whittlesey Straw Bear Festival
| | |
| --- | --- |
| Location: | Whittlesey, Cambridgeshire |
| Date: | 18th to 20th January 2019 |
This Pagan festival is based on a 19th-century tradition where a straw bear (represented by a man covered in straw to resemble a sheaf of corn) dances for gifts of food or money to mark the start of the agricultural season. Website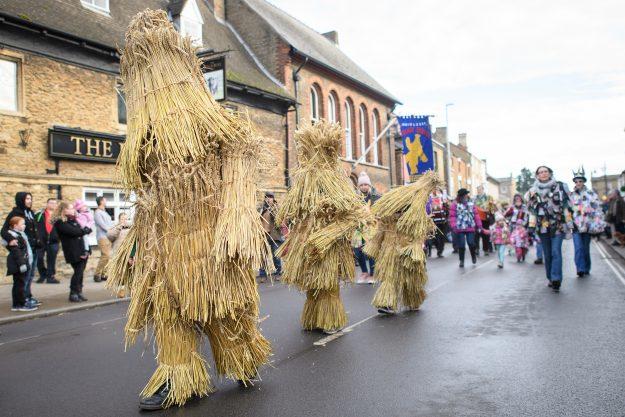 Straw Bear dancing in Whittlesey (Photo credit: lonelyplanet.com)
6. Up Helly Aa
| | |
| --- | --- |
| Location: | Lerwick, Shetland |
| Date: | 29th January 2019 |
Visitors come flocking from around the globe to witness Europe's largest fire festival. Based on a tradition originating in the 1880s, this Viking celebration is held on the last Tuesday of January every year and sees around 1,000 village men marching down the streets of Lerwick in a torch-lit procession donned in Viking helmets. Over 5,000 spectators have been known to witness the eventual setting fire to a longship, which concludes the event. Website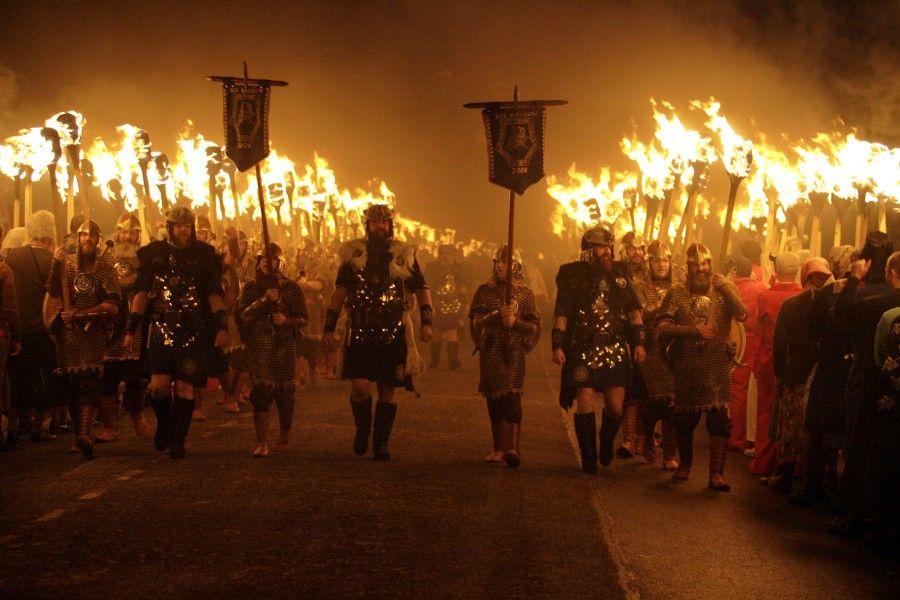 Up Helly Aa procession (Photo credit: 222.uphelaa.org - courtesy of Millgaet Media)
Have you been to any of these festivals? Would you add any other bizarre festivals to this list?
Pic 'n' Mix Festival Kit provides quality bespoke and pre-packed festival kits to festival-goers, offering a simple and convenient way to shop for all your quality festival essentials.
Don't receive our newsletter and want to receive regular updates on all things festival and eco-related? SIGN UP