By Jodie Boyd
We first met Oh My God! It's The Church at the after party at last year's AIF (Association of Independent Festivals) Festival Congress Awards, where they were nominated for 'Live Act of The Year'. Dubbed as a "Leftfield Church service that has their congregation rolling in the aisles and dancing on the pews, with shotgun weddings, absinthe baptism, and hymns to set your soul on fire", it's easy to see why this hugely popular live act is hot on the festival scene right now.
We recently caught up with frontman, the Right Reverend Michael Alabama Jackson, to talk about Sexy Jesus, absinthe, redemption and hipflask bibles!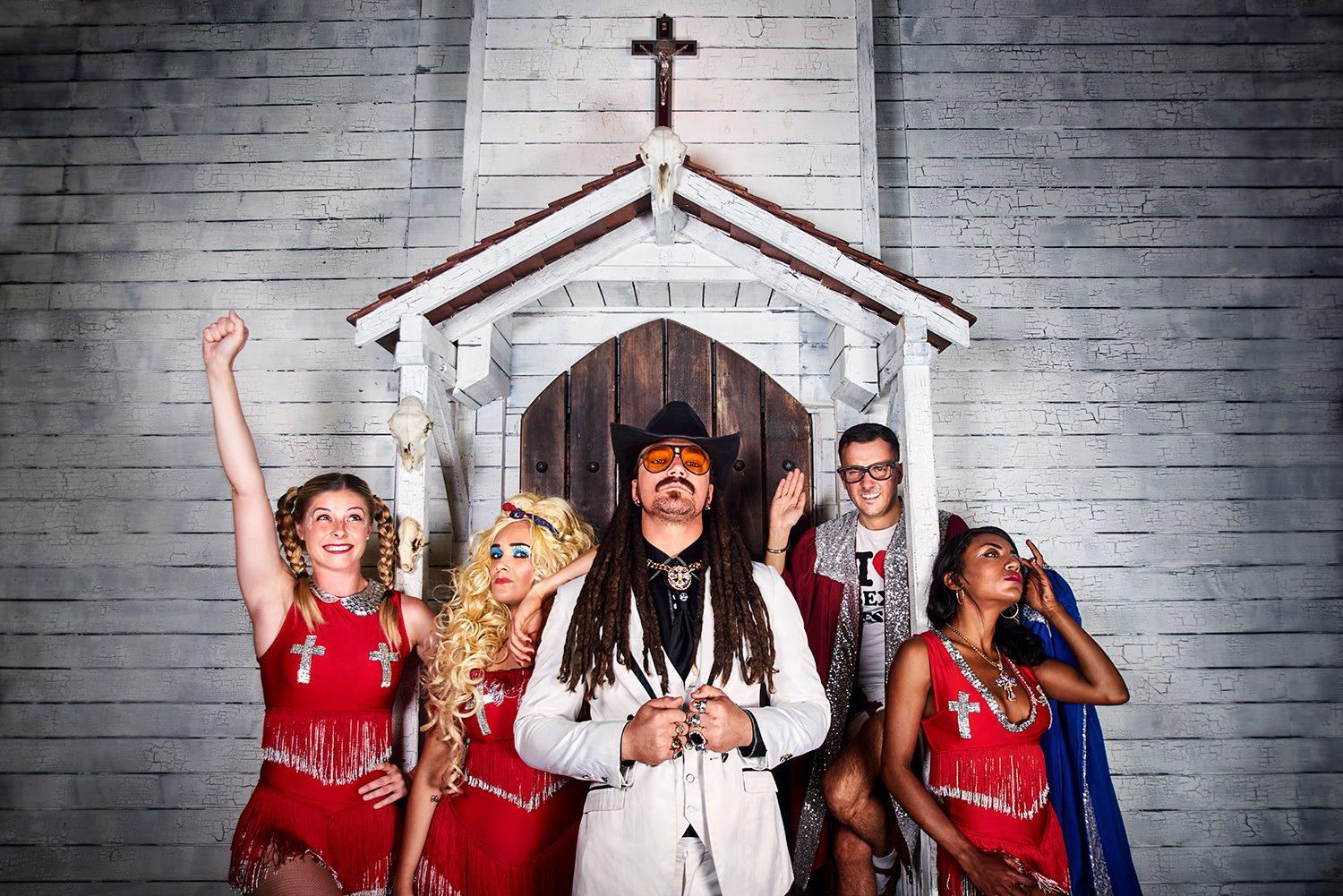 Photo Credit: @ohmygoditsthechurch
1. Let's start with introductions. Who is Oh My God! It's The Church and how did it all come about?
I had grown up in a convent when I was a child. Surrounded by rules and regulations. And nuns. So many nuns. Now, I've never thought much of rules. And at some point the nuns decided it was time for me to leave, because my inquisitive and mischievous nature was 'distracting for the other children and upsetting the delicate temperament of the older nuns - Like for example when I set Sister Mary Catherine's skirts on fire whilst trying to recreate the story of the burning bush..." - They got really upset about that.
So after they kicked me out, I decided to start my own Church, which encouraged people's mischievous spirits, and accepted people of all faiths and backgrounds.
Along the way I picked up my merry band of Bible Geeks and Jesus freaks who travel the world with me in Oh my God! It's The Church - turning sinning into winning, turning pain into cocaine, and transforming regret and hesitation into Kentucky Fried Salvation!
We're the Church of the People, and our Holy Spirit is Absinthe.
2. What's sexy Jesus all about and what's your message to your congregation?
If Sexy Jesus is your saviour, you have gotta love your neighbour.
Whether straight or gay, Black or White, we party and praise into the night.
A Church for the people both lost and found, a secret Church for the underground.
A Church for the naughty, a Church for the lovin'...
If you don't sin, Jesus died for nothin'.
3. How would you describe your music to a non-believer?
Our holy hymns will set fire to your Soul! There's something for everyone! Everything from Hip Hop to Motown. Hell, we even get Sexy Jesus rocking off his crucifix onto the dance floor.
4. Would it be safe to bring my mum to one of your gigs?
Yes, absolutely! We've had everyone from newborn infants to gyrating grandmas through our doors at Oh My God! It's The Church.
5. Has anybody confessed such a sinful sin to you that you haven't been able to absolve them?
No sin too great, no sin too small....However a guy did confess to accidentally killing his pet hamster when he sat on it as a kid. That was a tough call.
6. How much absinthe do you get through in a typical 'service'?
At least a bottle! It depends how thirsty/naughty the congregation is that day!
7. Have you ever been mistaken for a real Reverend?
I am a real Reverend.
8. What's your favourite festival memory?
One of my Hail Marys in particular - Sister Mary Lou, always gets up to mischief at festivals. One time she disappeared for six hours, and returning totally incoherent in a wedding dress and her arms and legs were covered in permanent marker. And who could forget the time she met David Beckham backstage at Glastonbury, every girl's dream right? Except at the time she was dressed as a frog - he turned down her offer of a slimy kiss.
9. You performed at Punta Del Este in Uruguay last summer. How was that?
What an incredible place! 10,000 sinners on a beautiful beach. What's not to love? Sun, Sea, Sand and Salvation! Amen!
I made friends with Beth Ditto who was playing on the same bill, she's amazing! She's gonna be my new Hail Mary when she's in town.
10. Where can we catch you on the festival scene this year?
The UK festival scene is the best in the world, and we are incredibly excited to be playing at so many again this coming Summer: Big Love festival, Swingamajig, The Masked Ball Cornwall, Shindig Weekender, Kaleidoscope Festival, Nozstock, Bestival, Wilderness and many more still to be announced!
11. What one piece of advice would you give to first-time festival-goers?
My one piece of advice for a festival virgin (amen!) would be to pace yourself! Most festivals are AT LEAST three days long! Don't go too wild on the first night and then spend the rest of the weekend crying in your tent....unless Oh My God! It's The Church are performing on the first night - In that case you can go as wild as you want!
12. What's the one festival essential you couldn't be without?
I've made a special bible, which hides a hipflask - business and pleasure - It's Goddamn genius!
13. And finally, will you be going to Heaven or Hell?
I'll leave that up to Sexy Jesus.
You can catch Oh My God! It's The Church at several festivals this year and on their 2018 Missionary Position Tour.
Where will you be seeing them next?
Pic 'n' Mix Festival Kit provides quality bespoke and pre-packed festival kits to festival-goers, offering a simple and convenient way to shop for all your quality festival essentials.
Don't receive our newsletter and want to receive regular updates on all things festival and eco-related? SIGN UP