By Jodie Boyd
So you have your festival ticket, your tent plus other festival essentials you're taking and you're now ready for the big day!
But maybe you're thinking "when should I aim to arrive, where should I set my tent up, and how can I keep my gear safe and secure"? If you're not sure of the answer to any of these questions, take a read of our top 5 tips guide.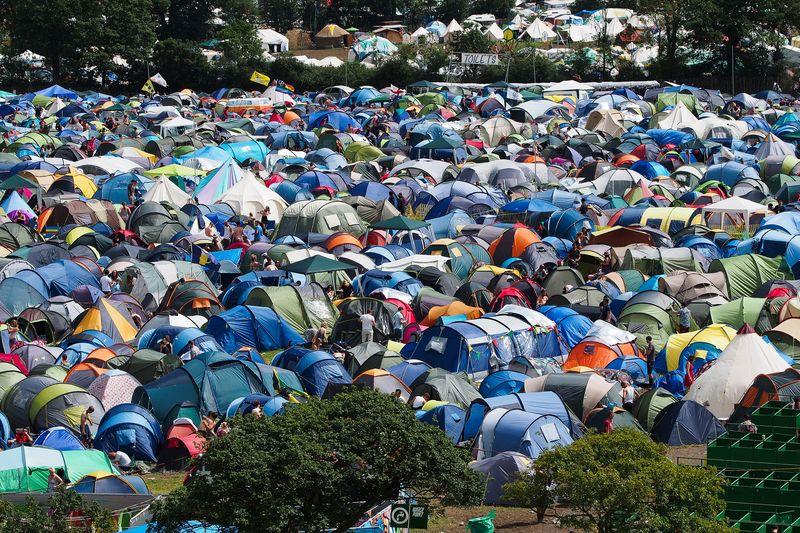 Tip 1 - What should I take with me?
It makes sense to bring only the things that you need and to leave behind anything that you will sorely miss if it gets lost or stolen. Laptops, iPads, designer jewellery and sunglasses – all of these are way too precious to leave in a tent so you should think about leaving them at home. Instead, take cheap versions of accessories such as sunglasses and mobile phones so it's no big deal if they do get lost or stolen.
For any valuables that you do need to take, either try to keep them on you at all times or you can use the lockers that some festivals have available. It's also recommended that you mark any valuables with an indelible pen. At night, hide valuables at the bottom of your sleeping bag.
It's probably wise not to take too much cash as most festivals have cash machines so you can withdraw smaller amounts when you need to. For large amounts of cash, it's best to spread it around in different pockets and not carry too much on you at one time. Most festivals will also accept card payments but only take the cards that you need (and make a note of them before you leave home).
As for your tent, check that there are no missing parts before you head off for your festival and take some spare guy ropes and tent pegs in case any get broken or lost.
Tip 2 - How early should I arrive?
If you are thinking of being an 'early bird', then you definitely should. It's always best to rock up as early as possible as you've got a better chance of nabbing a good spot for your tent. There's nothing worse than arriving later than most other people and being forced to pitch your tent right next to the loos or sandwiched tightly between other tents, giving you no space or privacy. This is especially important if you are meeting up with your mates – you'll want to bag a large enough plot to accommodate you all so you should all try and arrive at the same time if possible.
If you're driving, you've also got a better chance of parking nearer to the festival site than if you arrive later and, of course, that means less trekking with your gear to your tent and back again. Who wants to trek two miles with 20 kilos of luggage when hungover?!
Tip 3 - Where should I set my tent up?
You definitely do not want to set your tent up too close to the toilets or bins. The smell will likely be hideous and no matter how drunk or comatose you are when you get back to your tent, you won't want to wake up to that kind of stench. You also won't appreciate the noise coming from the queues of people waiting to use the bathrooms/loos in the morning. It's also not a great idea to pitch up in a walkway where lots of people traffic is likely, as this will probably mean more mud in that area.
That said, it might be wise to pitch up somewhere that is close enough to walk a short enough distance to the loos, which is good for those middle-of-the-night toilet trips – unless you are using a disposable TravelJohn or TravelJane, in which case, no need to even leave your tent.
If you can, a patch of grass that is slightly raised (but flat) and in the shade is a good spot. If you're camping as a group, it's a good idea for everybody to set up their tents so the doors are facing in an inner circle, creating a cosy communal area.
Tip 4 - How do I keep my tent secure?
We've been to a fair few music festivals in our time and never worried about security and don't know any festivalgoers who have had anything stolen. However, it makes sense to take some precautions.
Firstly, don't put a padlock on your tent, as this will only attract thieves. You basically want to make your tent as unappealing as possible so don't advertise the fact that you might have valuables in your tent.
It's also a great idea to make friends with those camping around you, which means not only being friendly but also being considerate of noise levels and tidiness around your tent. If you can get off on the right foot with your neighbours, they're more likely to keep an eye out for you should any suspicious characters enter into your zone.
Tip 5 - How should I report suspicious theft?
If you do see anybody acting suspiciously, such as hovering around tents or looking inside tents that don't appear to belong to them, report them immediately to the festival security staff. It's wise not to approach them directly in case they become confrontational. If you are extremely unlucky enough to become a target, report this to the Police onsite so they can give you a statement, which will be required by your insurance company.
So, hopefully these tips will come in handy. If you need any festival essentials and accessories, Pic 'n' Mix Festival Kit has a wide range for you to choose from to create your bespoke or pre-packed festival survival kit.
All you need to do now is get ready to enjoy what should be an amazing music festival experience!
Do you have any other tips or have you ever lost your tent at a festival?
Pic 'n' Mix Festival Kit provides quality bespoke and pre-packed festival kits to festival-goers, offering a simple and convenient way to shop for all your quality festival essentials.
Don't receive our newsletter and want to receive regular updates on all things festival and eco-related? SIGN UP