By Jodie Boyd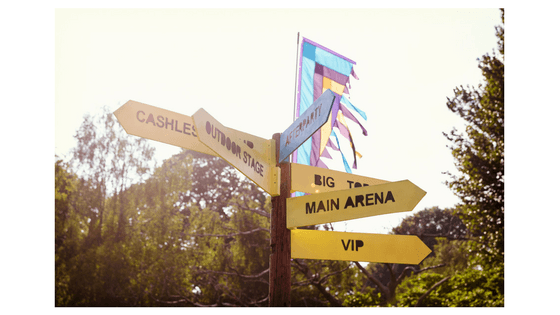 I'm sure you can picture the scene – you're standing in a vast sea of thousands of tents where most of them look exactly the same, and for the life of you, you can't remember where yours is, so you spend a stupid amount of time going round and round in circles thinking yours must be somewhere 'around here'.
Day one is the worst as you can pretty much guarantee that since you pitched your tent, hundreds of other festivalgoers also set up pitch right in your area so now it looks totally different.
Add to that a copious amount of alcohol and you now realize exactly why those people you see curled up in a ball on the grass in the morning are there instead of inside their warm sleeping bag. Yep, they've lost their tent!
Here are some top tips to avoid losing your tent and the gnawing cold that early mornings outside can bring.
Tip 1 – Use a mobile app
There are a number of mobile apps that will help you to find your tent using GPS tracking and most of them are free. Once installed, you simply drop your virtual tent pin on a map and the app will remember its location and guide you back to your tent. You could also use the app to find the nearest toilets to you, which could be handy for those middle-of-the-night loo trips, as well as for the nearest bar, stage and any other place you want to landmark.
Tip 2 – Take photos
If you're not taking a phone with GPS (for example, if you're taking a cheap alternative handset), and you're really organized, you could take photos of some landmarks on your route from your tent to the festival so later that day/night, you can use them as a reminder if you forget which direction to go.
Tip 3 – Mark your territory
You can also mark your tent with a unique flag of some kind to help yours stand out in the crowd, as well as use bunting and solar fairy lights to decorate your tent. If you're a bit arty, this may be a good opportunity to get creative and make something yourself. There are also plenty of flags you can buy online. Think banners, spinners, windmills etc. If you're planning on painting a banner, make sure you use non-water based paint for a design that won't disappear in the rain. Also, make sure your pole is sturdy enough to withstand the wind.
Tip 4 – Use a torch
Whether you're using a GPS tracking app or marking your tent, don't forget to use a torch to help you navigate back to your tent in the dark. It's best to use a separate torch and not the torch app on your phone (which will reduce your battery life). Pic 'n' Mix Festival Kit provides a useful key ring torch, included in the pre-packed kits or available within a bespoke festival kit.
Did we miss anything?
Pic 'n' Mix Festival Kit provides quality bespoke and pre-packed festival kits to festival-goers, offering a simple and convenient way to shop for all your quality festival essentials.
Don't receive our newsletter and want to receive regular updates on all things festival and eco-related? SIGN UP