By Jodie Boyd
Whether it's the idea of camping, the cost of tickets, or just not wanting to commit to a whole weekend of festival shenanigans, weekend festivals are not for everybody. The good news is that there are plenty of day festivals in most major cities and elsewhere across the UK.
So, if you've booked to go to a day festival, you'll need some festival essentials to help you enjoy the event. This is where we come in! We recently launched a new Day Festival Kit, perfect for day festival-goers.
Although you won't be camping, you'll need a bag small enough to carry all your essentials for the day. Here's what we think you'll need and what the kit contains:
Anti-bacterial Hand Gel – Small enough to fit into a little bag or pocket
Tissues – Handy to keep in your bag
Poncho – Lightweight and hooded, our ponchos fold up small enough to slide in the back of a bag
Toilet Tissue Wipes – Don't rely on festival toilets being always stocked up with loo roll
Lip Balm – Drinking, sunshine, wind or rain, prevent your lips from feeling dry and chapped
Chewing Gum – Nobody likes beer breath
Wet Wipes – Sticky cider or muddy mitts? No problem
UV Face & Body Paint – Look the festival part with this bright neon paint
Sun Lotion – Standing in a field all day, even if cloudy, can give you sunburn so protect your skin from those nasty UVA and UVB rays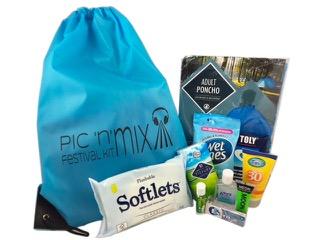 All of these handy festival essentials are available on our website and every kit comes with a FREE reusable drawstring bag (pictured) so you don't even need to bring your own bag. How handy is that?
As we want to give all of our customers as much choice as possible, we also offer you the choice of creating a bespoke kit from our full range of festival products. And of course, you can buy any of our pre-packed kits and order additional products.
So, once you've taken the plunge and bought that festival ticket, be festival-ready so you can enjoy what should be an amazing music festival experience!
Would you take anything else to a day festival?
Pic 'n' Mix Festival Kit provides quality bespoke and pre-packed festival kits to festival-goers, offering a simple and convenient way to shop for all your quality festival essentials.
Don't receive our newsletter and want to receive regular updates on all things festival and eco-related? SIGN UP