By Jodie Boyd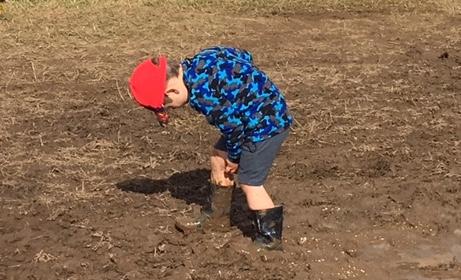 When it comes to camping at festivals, I've always coped pretty well. I've experienced the rain, the cold, mud, and even revelled in it, probably because my previous festival-loving times were pre-kids. But when I checked the weather forecast before Camp Bestival and saw rain, rain, and more rain expected, I have to be honest and say that I was worried that with two young kids in tow, my husband and I might struggle just a bit.
Yes, there were some low times, but we also had some really good moments, and at the end of the weekend, when we asked ourselves and the kids if we wanted to go to next year's Camp Bestival, it was a definite 'yes' from everyone.
So, here are my highlights and lowlights…
THE BEST BITS
1. Kids Activities
There is just so much for kids of all ages to do that I think we barely touched the surface. From Mr. Tumble to Animalphabet, science performances and rocket-making workshops to West End Kids, this festival is totally set up for kids and the quality of the acts was really high. The makeshift play structure at the boutique-y Caravanserai was also a total winner as the kids could play unrestricted in an enclosed area while the adults sipped cocktails and chilled out.
2. The People
I can't remember being at a festival where everybody I met was so friendly and helpful (ideal when you have a festival cart that keeps jackknifing in the mud). Despite the hideous weather, everyone we met was exuding positive vibes and for me, Camp Bestival is definitely the friendliest festival I've ever been to. It also helps going with a group of great mates, as we did (shout out to my Camp Besties).
3. Pre-Pitched Camping
We had a series of tent disasters (see below) so ended up moving from General Camping to the Pitch Village area and we were seriously impressed with their service. As well as a pre-pitched tent, the price includes well-stocked and clean toilets, hot showers, a pamper hub with hairdryers and GHDs, a phone charging service, and refreshments on tap. Even better, we didn't have to pack down a tent when we left on Monday morning.
4. Disposable Urinals
As a company that supplies festival survival kits, of course we took plenty with us. A lot of the products got used (apart from the sun cream, unfortunately). But I have to make a special shout out to the TravelJohn and TravelJane. They were the perfect alternative to middle-of-the-night loo trips as we didn't ever have to leave our tent to go for a wee, which is a lifesaver when it's cold and pouring it down with rain outside. Our 3-year old also made use of them in the arena, once whilst standing next to the mixing desk during Mister Maker and later, at the back of the Bollywood tent. We must have got through about 10 of these in total over the entire weekend!
THE SURPRISING BITS
5. The Music
Not getting to see any music that I planned to see was the most surprising and disappointing for me as it's the main reason I (and most other festivalgoers) go to music festivals. I knew it would be mostly about the kids and that I wouldn't get to see all the artists I wanted, but because of the relentless rain, we felt obliged to take the kids back to the campsite in the evenings, as it wouldn't have been fair to them otherwise. Sitting in my tent listening to Madness and Leftfield whilst nursing a glass of Malbec felt a bit odd, as I knew I should have been out there in the crowd, dancing in the rain and drinking warm, flat cider. That said, we did have a ball dancing in the mud around the world's largest disco ball!
6. Food Choices
Camp Bestival isn't a festival I'd necessarily associate with great food, but I was pleasantly surprised by the selection of food stalls. The Farmers Market and Feast Collective in particular offered a great range of freshly prepared foods and at surprisingly reasonable prices. Cockles and apple and boar sausage rolls were just a few that we tried.
THE WORST BITS
7. Tent Failure
'Tent disaster' is a more appropriate definition of our experience. As it was our first time camping with two little ones, we decided before the festival that we would upgrade our tent to a quick and easy solution so, after much research, opted for an air tent. We knew something wasn't quite right when the air beams kept buckling during the first day but after coming back at midday on the Friday to a collapsed tent and then hearing the dreaded pop when we attempted to pump it up – well, that was the end of that tent! What made it worse is that all our bedding and a lot of our clothes got soaked from the rain that managed to seep inside the tent when it collapsed.
To cut a long story short, we managed to get a pre-pitched tent at Pitch Village. But that's not the end of our woes because at about 10.30pm that night, we discovered a leak, but the staff helped move us and our sleeping boys to a bigger and dry tent and within 30 minutes, we were settled into our new home for the next three days. Three tents in less than two days – did anybody else beat that?
8. Relentless Rain
I don't mind mud or rain at a festival. It's par for the course, surely? But this rain was just relentless – it poured and poured until the kids could barely walk without getting their wellies stuck in the mud and we constantly had to dive under cover because the rain was that heavy. Because most other people seemed to do the same, it was hard to get through some of the tents to see acts as so many people were blocking the perimeter with festival carts and buggies.
We initially had visions of the kids running around the festival site in the day and us carting them around in the evenings so when they got tired, they could have a snooze with ear defenders on while we could enjoy the music and have a few drinks. Not so. The mud was just too thick in the main area for them to run around in and our festival/garden cart and mud just weren't compatible.
Add to that the fact that pretty much all the kids' clothes were soaked from the rain and the collapsed tent, we found ourselves being just a bit too cautious for our liking about the kids falling in the mud and not having anything else to wear. We weren't going to let the weather dampen (excuse the pun) our spirits though, so we battled on, determined to thoroughly enjoy ourselves. And that's exactly what we did!
Our Camp Bestival experience wasn't sponsored and all views are our own. We paid for all of our festival tickets and for our pre-pitched camping.
Pic 'n' Mix Festival Kit provides quality bespoke and pre-packed festival kits to festival-goers, offering a simple and convenient way to shop for all your quality festival essentials.
Did you go to Camp Bestival? What was your experience?
Don't receive our newsletter and want to receive regular updates on all things festival and eco-related? SIGN UP