By Jodie Boyd

May, 2017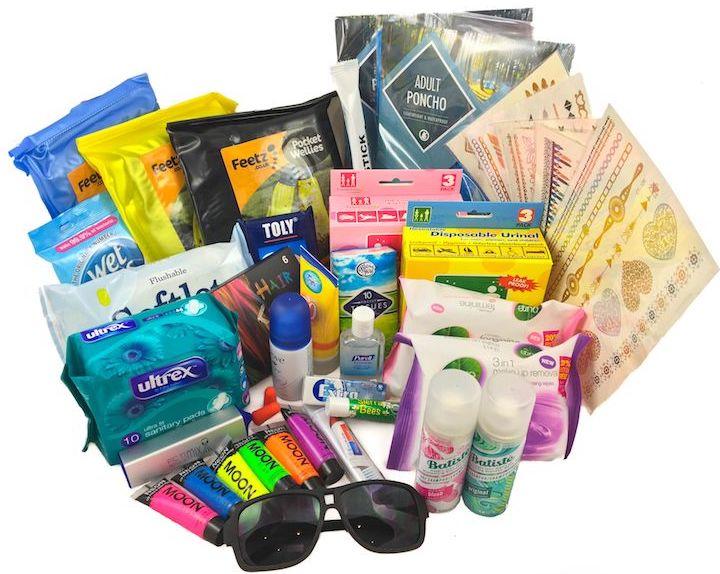 Pic 'n' Mix Festival Kit launched its own website earlier this year targeting festivalgoers with a bespoke festival kit solution.

The concept is simple – customers simply select what they need from a range of products to create a bespoke survival kit tailored to their needs. They also have the option to purchase one of their pre-packed kits, of which they offer an Essentials and VIP version. The pre-packed kits, which are available on www.picnmixfestivalkit.co.uk, will soon also be available to purchase on Amazon.

The company set up their business to address the gap in the market for bespoke festival survival kits. "We wanted to create a solution which allows customers to buy only the festival essentials and accessories they need, all in one place and at reasonable prices", says owner of Pic 'n' Mix Festival Kit, Jodie Boyd. "We know through our own experience of going to festivals that it can be frustrating having to shop at various different physical stores or websites. We want to remove this inconvenience and make it a simple and pleasurable online shopping experience for all festivalgoers and campers."

Everybody going to a festival needs to take certain essentials, especially if camping, so it's something they will need to either plan for in advance or buy on site at music festivals. And of course, that may mean higher prices or the risk of not having available what a customer wants.

As customers can choose what to put in their kits, they are relevant for campers, glampers, and festival day-trippers. The products offered on their website, www.picnmixfestivalkit.co.uk, currently range from hygiene essentials to festival clothing, footwear, tech gadgets, and fashion accessories. Every order over £15 comes with a free reusable drawstring festival kit bag.

"Whether you're going to a small folk festival, a big rave like Creamfields or one of the major mainstream festivals like Glastonbury, we believe we have something for all festivalgoers. We're constantly thinking about new products we can add to our range so we're very excited about the future of Pic 'n' Mix Festival Kit as the company grows."

The husband and wife team behind Pic 'n' Mix Festival Kit are self-confessed music nuts. "We love music and always have, through our experience in composing, performing, DJing, and collecting music. It's always being played in the house and we're now at the stage where we can take our young children camping at music festivals. So for us, our business is a great way to focus on doing something that we have a passion for."

To learn more about Pic 'n' Mix Festival Kit, visit the website at www.picnmixfestivalkit.co.uk or email info@picnmixfestivalkit.co.uk.

Pic 'n' Mix Festival Kit provides quality bespoke and pre-packed festival kits to festival-goers, offering a simple and convenient way to shop for all your quality festival essentials.