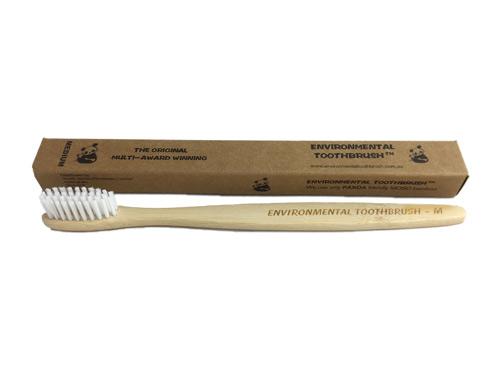 Toothbrush - Soft Bristles
1037
Environmental Toothbrush - Soft Bristles 
Don't forget your toothbrush and make a difference to the environment at the same time! 
This eco-friendly toothbrush is made from an environmentally sustainable timber called MOSO bamboo grown by local farmers and because the handles are biodegradable, it doesn't pollute the environment, unlike plastic toothbrushes that end up in our landfill and don't break down.
Bamboo is a natural cellulose fibre which has the ability to grow and self-renew naturally so no deforestation is needed.
The bristles are BPA-free and are resistant to bacterial growth during normal use. It's recommended that you rinse and dry your toothbrush after every use to keep it clean.
The handle can be disposed of in compost or landfill, where it will biodegrade and it's recommended that the bristles are removed and placed into the bin.
The Environmental Toothbrush is BPA-free, fair traded and vegan free.