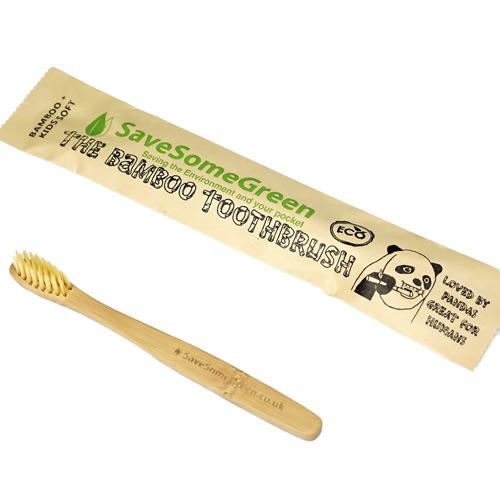 Toothbrush (Kids) - Soft Bristles
1061
Save Some Green Toothbrush - Kids Soft Bristles 
Just like our adults version, this toothbrush is 100% biodegradable, compostable, and vegan. 
Produced using a panda-friendly bamboo called MOSO and contains no fertilisers or pesticides. 
The soft bristles are also biodegradable and made from BPA-free Nylon 4. Rinse and dry after every use to keep it clean. Once you're ready to throw the toothbrush away, simply throw it in the bin, where it will biodegrade in landfill or put it on your compost heap to compost.
Packaged in a 100% recycled, recyclable and biodegradable paper sleeve.
Not only is this toothbrush environmentally-friendly, but the soft bristles are also great for your child's teeth and gums.
Check out our adult's version of this toothbrush.
M Lizley
Bought a couple of these bamboo toothbrushes for my children as we're trying to educate them about the environment. Not only do they love using them (perfect size for their little hands) but they go round telling their friends and teachers about how they are helping to protect wildlife and the oceans :)